Housewraps are crucial barriers that protect your home from external moisture while allowing your walls to breathe. At Vista Roofing, a leading roofing company West Columbia, SC, we believe that understanding housewraps is vital for every homeowner. This comprehensive guide is dedicated to enlightening you about the ins and outs of housewraps.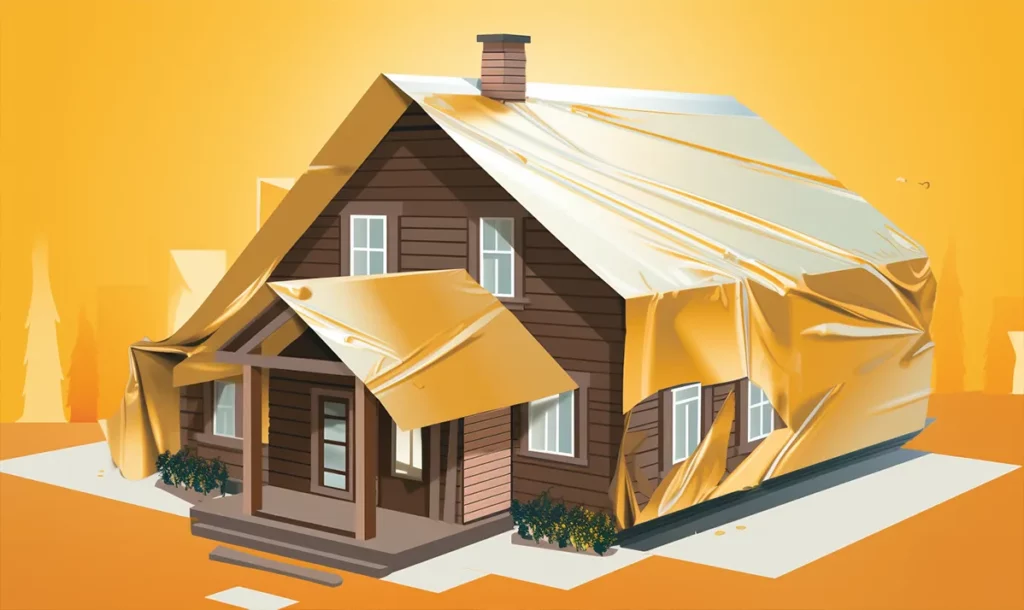 Why Housewraps are a Homeowner's Best Friend
Here is why you need a housewrap:
Superior Moisture Protection
Housewraps serve as an impeccable shield against the various elements. They protect your home not only from rain, snow, and other water forms, but also from the potential water damage that can follow unchecked moisture infiltration. Over time, unchecked moisture can lead to mold growth, rotting wood, and weakening the home's structural integrity.
At Vista Roofing, a prominent roofing company in West Columbia, SC, we've witnessed firsthand the devastation that unchecked moisture can inflict on a home. Therefore, we emphasize the value of a reliable housewrap installation.
Energy Efficiency Enhancement
Housewraps do more than just guard against moisture; they also play a pivotal role in energy conservation. These barriers provide a tight seal around your home, minimizing air leakage. In doing so, they help maintain a consistent indoor temperature.
This means your heating and cooling systems don't have to work overtime, leading to energy savings and reduced utility bills. For homeowners, this dual benefit of comfort and cost savings underscores the importance of housewraps.
Prevention of Unwanted Airflows
Uncontrolled air infiltration can bring with it dust, pollutants, and unwanted drafts. Housewraps act as a barrier, ensuring that the air inside your home is of high quality and free from external contaminants. This improves the overall comfort of your living space and contributes to a healthier indoor environment.
Durability and Longevity
Quality housewraps are designed to last, offering homeowners peace of mind. With proper installation and occasional maintenance, these barriers can serve your home for years, ensuring that you get maximum value from your investment. Plus, with the backing of leading roofing companies in West Columbia, SC, such as Vista Roofing, homeowners can be assured of the product's quality and longevity.
Versatility in Application
Whether you have a brick home, a wooden structure, or any other type of building material, there's a housewrap suitable for your needs. Their versatility ensures that every homeowner can benefit from their protective features, regardless of their home's construction.
Choosing the Right Housewrap
While the market is flooded with housewrap options, not all are made equal. Partnering with reputable roofing companies in West Columbia, SC, such as Vista Roofing, ensures that you get the best recommendation tailored to your home's specific needs.
Material Consideration
Housewraps are primarily available in two materials:
Spunbonded Olefin – A popular choice known for its robustness against tearing and water resistance.
Micro-perforated Plastic – Offers the benefit of being vapor-permeable, ensuring your walls breathe appropriately.
We recommend researching more on building materials and their significance. U.S. Department of Energy offers great materials on this subject. You can choose a good and long-lasting material that will give you the value of your money.
Installation Insights
Proper installation is as crucial as choosing the right housewrap material. While you might be tempted to embark on a DIY journey, consulting with experts, like the team at Vista Roofing, ensures that you avoid common pitfalls. After all, a housewrap's efficacy largely depends on its correct installation.
Maintenance and Longevity
Like every aspect of your home, housewraps require periodic inspection. It's essential to be proactive in checking for tears, loose areas, or signs of wear. Timely roof repair in West Columbia, SC, especially related to housewrap damages, is crucial to prolonging your wrap's life and ensuring your home remains protected.
Conclusion
Housewraps, while often overlooked, play an integral role in ensuring your home remains in pristine condition. By offering protection against moisture and contributing to energy efficiency, they are undeniably an investment worth making. Partner with experts like Vista Roofing to ensure your housewrap installation, maintenance, and repairs are nothing short of the best.