Commercial flat roofs are common in many industrial settings, but choosing the right roofing company is vital when they need repairs. Vista Roofing, one of the leading roofing companies in West Columbia, SC, provides a detailed guide to understanding and managing commercial flat roof repair.
The Importance of Commercial Flat Roof Maintenance
A commercial flat roof is a significant investment. Proper maintenance ensures its longevity and reduces the need for frequent repairs. Vista Roofing recommends regular inspections to detect issues early and avoid expensive repair costs down the line.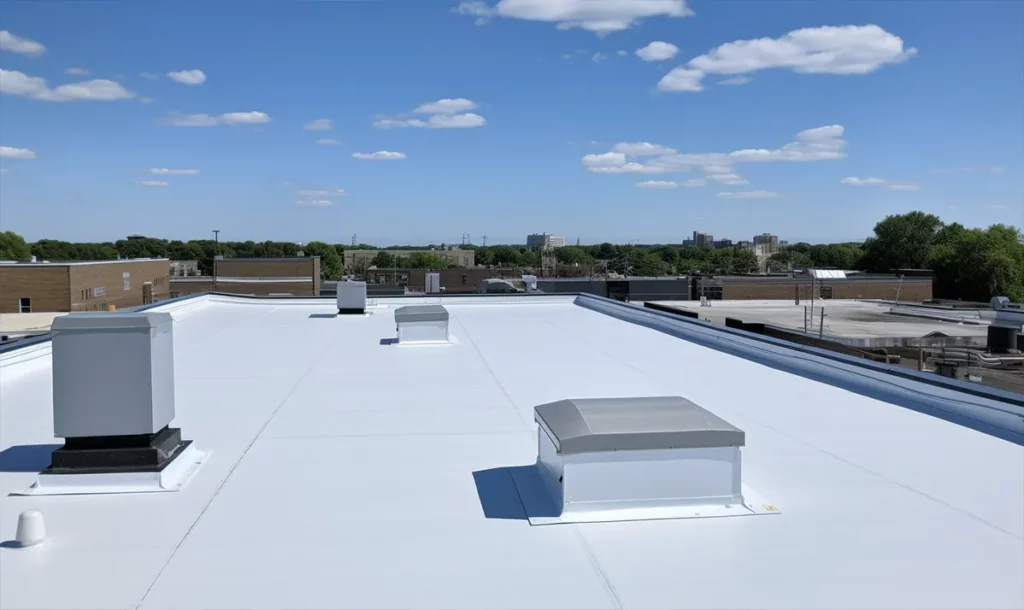 Common Flat Roof Issues
1. Ponding Water
This water remains on the roof for over 48 hours after rainfall. Prolonged exposure can lead to leaks and structural damage. Ensure proper drainage to combat this issue.
2. Blisters, Cracks, and Rips
These are often due to age, wear and tear, or poor installation. They can lead to bigger problems if not addressed promptly.
3. Loose or Damaged Flashings
Flashings are the materials used to seal the edges, perimeters, walls, and other flat roof areas. Damaged flashings can let water seep into the roof layers.
The Process of Commercial Flat Roof Repair"
In the intricate world of roofing, understanding the commercial flat roof repair process is essential. As a leading roofing company in West Columbia, SC, Vista Roofing breaks down the steps for you.
1. Inspection and Assessment
Before any repair starts, a thorough inspection is imperative.
Visual Examination: Our team begins with a visual check to understand the visible damages.
Instrumental Analysis: Tools like infrared scanners help detect moisture trapped in the roofing layers.
Problem Documentation: After the assessment, all issues are documented, complete with photographs and notes. This record aids in formulating the repair plan.
2. Preparation
A successful repair job requires a clean and well-prepared site.
Clearing the Roof: Any debris, such as leaves or branches, are removed to provide an unobstructed workspace.
Surface Cleaning: Dirt and grime can impede repairs. The roof's surface is cleaned to ensure optimal adherence of repair materials.
Safety Measures: Safety barriers are set up, and the area is cordoned off to ensure the safety of both workers and the building's occupants.
3. Repair
This is the heart of the process, where actual repair takes place.
Material Selection: Depending on the damage type and the original roofing material, a suitable repair material is chosen.
Patchwork: For minor damages like small cracks or punctures, a patch of the chosen material is applied.
Section Replacement: If a larger area is damaged, it might require removal and replacement.
Sealant Application: Post repair, sealants are often applied to ensure watertightness and further protect the repaired section.
4. Quality Check
Ensuring the durability and quality of the repair is essential.
Water Testing: After repairs, water might be sprayed on the roof to ensure no leaks remain.
Visual Examination: A post-repair visual inspection ensures all areas of concern have been addressed.
Feedback Gathering: Vista Roofing seeks feedback from the client to ensure they're satisfied and to make any immediate adjustments if necessary.
5. Ongoing Maintenance
While not necessarily a part of the immediate repair process, preventive maintenance can ward off future problems.
Scheduled Inspections: Regular check-ups, especially after severe weather events, can identify and resolve issues before they escalate.
Cleaning: Regularly removing debris and cleaning the roof prolongs its life and reduces repair frequency.
Client Education: Vista Roofing believes in educating clients on the best practices to maintain their commercial flat roofs, ensuring longevity.
By understanding each step of the commercial flat roof repair process, businesses can ensure the longevity and safety of their infrastructure. With Vista Roofing, you're guaranteed a service that values precision, quality, and client satisfaction above all else.
Considerations Before Opting for Flat Roof Repair
Before deciding on the type of repair needed, consider:
Age of the Roof: Older roofs might benefit more from a replacement than a repair.
The extent of Damage: Minor damages can be fixed with simple repairs, while extensive damage might require more drastic measures.
Budget: Ensure you get a detailed quote from your chosen roofing company West Columbia, SC, to avoid any hidden charges.
Here's an informative article on commercial roofing systems and materials that you might find beneficial when considering the type of repairs or materials to opt for. Such information can be useful when you are unsure about different materials.
Conclusion
When it comes to commercial flat roof repair, choosing an experienced and reputed service provider is crucial. With Vista Roofing, you're selecting a partner that brings a blend of expertise, quality, and dedication to every project. Ensure your commercial property's longevity and safety with the best in the business.