Selecting the right roof color is crucial for aesthetics, energy savings, and overall functionality. At Vista Roofing, we pride ourselves on guiding homeowners, especially those in West Columbia, SC, through this important decision. Based on our extensive experience as one of the top roofing companies in West Columbia, SC, we've crafted this comprehensive guide for you.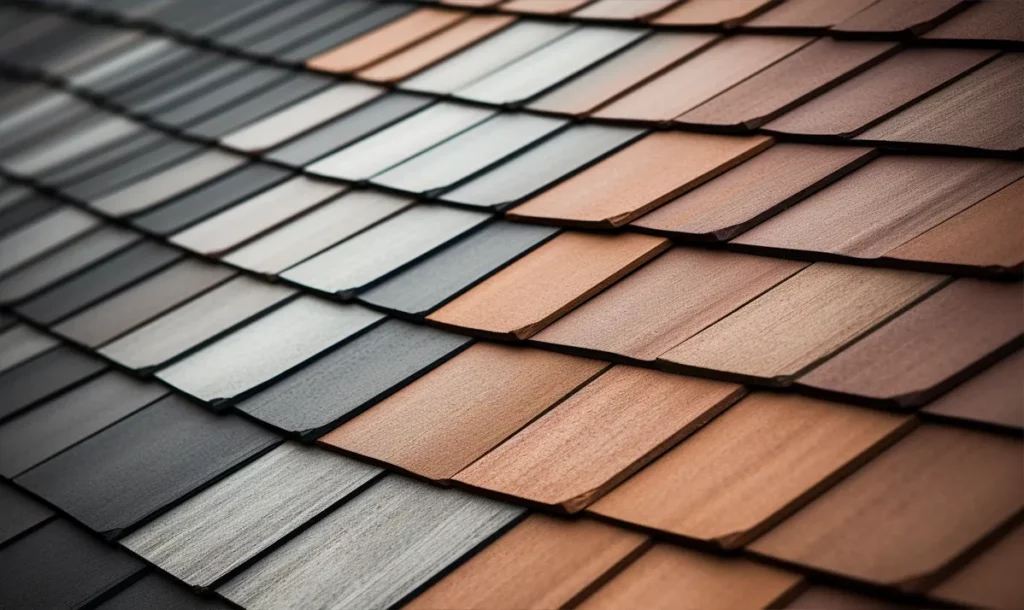 Understanding the Significance of Roof Color
The color of your roofing shingles plays a multi-faceted role that extends far beyond the mere visual aesthetics of your home. At Vista Roofing, we believe in diving deeper into understanding the intricate relationship between roof color and various aspects of home sustainability and functionality. Here's a breakdown of the major points:
Temperature Control & Energy Efficiency
Roof colors directly impact the temperature of your home. Dark colors, such as black or deep blues, are known to absorb more heat. This can be beneficial in colder climates where homeowners aim to retain warmth. Conversely, in sun-drenched regions like West Columbia, SC, lighter colors, such as beiges or soft grays, reflect heat and can significantly reduce air conditioning costs, enhancing energy efficiency.
Home Resale Value
Real estate professionals have consistently noted the influence of roof color on potential homebuyers. A well-chosen roof color can elevate the appeal of a home, increasing its market value. Especially in competitive markets, the right roof hue can make your property stand out.
Durability & Lifespan
Certain roof colors can show wear and tear, and algae, or moss more readily than others. For instance, lighter roofs might display algae growth quicker than a dark-toned roof. Being aware of this can influence your color choice based on the local environment.
Compatibility with Home Exteriors
It's not just about the roof alone; it's about how it complements the rest of the house. The right roof color should harmonize with external walls, landscaping, and even neighboring houses. For example, a terracotta-colored roof might look exquisite on a Mediterranean-style home but could clash with a modern, minimalist design.
Psychological Impact
Colors have been proven to invoke emotional responses. A serene blue might evoke feelings of calm and relaxation, while a vibrant red roof could symbolize energy and passion. The roof color you choose can reflect the emotional ambiance you wish to convey through your home.
Environmental Harmony
Choosing a roof color that blends with the surrounding environment for homes in more natural settings can provide a sense of cohesion. Earthy tones, greens, or browns might be ideal for homes in woodland areas or amidst lush landscapes.
Factors to Consider When Choosing Roof Color
Choosing the right color should be done carefully. Consider the following tips.
Geographic Location
West Columbia, SC, experiences both hot summers and moderately cold winters. Therefore, if you're looking for roofing contractors in West Columbia, SC, you'll want color guidance that balances out these temperature fluctuations.
Architectural Style
The architectural style of your house can hint at the best roofing shingle color. Traditional homes might benefit from classic shades, while modern homes might look better with bold or contrasting colors.
Surrounding Elements
Look around your neighborhood. What colors dominate the landscape? Is it a sea of earthy tones or more vibrant hues? Your roof color should harmonize with the surrounding environment.
Popular Roof Colors in West Columbia, SC
Being the best roofing company in West Columbia, SC, Vista Roofing has observed certain trends in roof colors in the region:
Cool & Neutral Tones: These colors are versatile and tend to blend seamlessly with most home exteriors. Think of shades like taupe, light gray, or soft blue.
Earthy Browns & Tans: Perfect for homes surrounded by natural landscapes.
Bold Contrasts: Think black roofs on white homes or slate gray on red brick houses. These combinations make a statement!
Boosting Energy Efficiency with Roof Color
It might surprise many homeowners to realize how much a simple color change can impact energy costs. If you're in a particularly sun-soaked area, consider lighter shingles. They reflect sunlight, keeping interiors cooler and potentially decreasing air conditioning costs. For those in colder regions, darker shingles might be the way to go, as they can absorb warmth, helping homes stay warm.
Choosing the right material can also be vital in the pursuit of energy efficiency. Here's an informative article from the U.S. Department of Energy discussing cool roofs and their benefits. This can be especially valuable information for homeowners in West Columbia, SC.
Wrapping Up
In conclusion, the right roof color can significantly enhance your home's appearance, lifespan, and energy efficiency. At Vista Roofing, the leading roofing company in West Columbia, SC, we understand these nuances and are dedicated to assisting our clients in making informed choices. When searching for roofing companies in West Columbia, SC, always prioritize those, like Vista Roofing, who keenly understand the region's unique needs and trends. Your home deserves the best, and that begins with the perfect roof color.